sportsfanswhine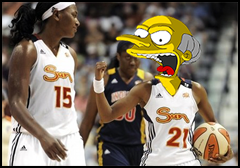 Joined: 10 Sep 2007
Posts: 1823
Location: Charles Ct, across the street from Monty's Motor Speedway and just off Taurasi Turnpike.
Back to top
Posted: 04/09/09 12:01 am

::: Recommended Reading
Reply

---

I've been looking forward to rereading "The Man Watching," by Tim Crothers, and just started in on that this evening. Hands down my favorite book on sports, it is the product of four years of Crothers following around the UNC women's soccer program. More than 150 players were interviewed, and there are of course opinions from other programs and coaches. Obviously, there is a ton of Anson Dorrance.

I love this book and I love to reread it because it reminds me of what I love so much about UNC's program and the impact it has had on the women's game in America. Whether good or bad, UNC has shaped a large part of the face of the sport in this country and every single team in the new league is impacted by its legacy.

So hey, if you're looking into the players on your new team and you find a lot of faces graduated from Chapel Hill, you might want to give it a read. Though in my experience, it really only further illuminates one's predispositions. As someone who was already a fan, I grew even more impressed by the program. My friends who have fairly strong distaste for UNC only found that opinion reinforced. If nothing else, I guess that means it gives broader perspective to those who are new to watching the US women's game.



Quote:
Toward the beginning of his recruiting of Lindsay Tarpley, Dorrance wrote her to tell her that UNC was interested in recruiting one striker, and she was on the top of the list. Soon after, Dorrance received a note back from Tarpley in which she wrote,

I'm not sure I'm good enough to be a Tar Hell.

Dorrance incredulously wrote back,

If you're not good enough, would you please suggest someone we can recruit who's better?





Quote:
As a rule, Dorrance doesn't believe in comparing players to predecessors, but sometimes in his player conferences he will use the past to motivate and measure progress. During his very first player conference with Lori Chalupny in 2002, he pulled a UNC media guide off his shelf and turned to the page that details the feats of Tisha Venturini.

"Shall we dream a little?" Dorrance said.

"OK," Chalupny said.

"This is Tisha Venturini, the greatest scoring midfielder in our history; let's look at her numbers and let's beat her numbers in your four years. What do you think?"

"OK."

So Dorrance grabbed a pencil and divided Venturini's career goals and assists totals by four. He then scribbled the numbers down on a piece of paper and said, "Here's what you need to do each year."

"OK."

"You're pretty low-maintenance, huh?"

"Yup."

Four seasons later, in Dorrance's estimation, Chalupny joined Venturini among the five best players in the history of the UNC program.





Quote:
Concluding his remarks before a game against Villanova during the 2003 season, he said,

"My thrill during our games is the understanding that every team that leaves the field against us knows they were beaten by a greater force. No, not a better team. They ran into a force. They found the center of our chest and it was hard and they couldn't knock us down. So when you're tackling out there today, I want you to throw your body at the girl with such a clattering of bones and gristle that she'll be worried about having a scar from her kneecap to her ankle. I want her wondering, 'If I finish this game, will I ever be able to wear a skirt again?'"






Quote:
But Ducar's proudest achievement occurred when he unearthed Heather O'Reilly well ahead of the competition. Tipped off by O'Reilly's club coach, Charlie Naimo, Ducar watched O'Reilly play at a tournament with no other college coaches around because the players were just tenth graders. O'Reilly didn't score a goal, but Ducar was impressed that when a player stole the ball from her, she exhausted herself to get it back.

As soon as the game ended, Ducar walked over to Naimo and said, "Charlie, that kid is going to be on a full ride to the University of North Carolina."

"Huh?" Naimo said. "She didn't even score."

Ducar replied, "I don't care.

That's

a Tar Heel."

Two years later, as a senior in high school, O'Reilly joined the U.S. national team, and as a freshman at UNC she scored a record eight goals in the NCAA Tournament to lead the Tar Heels to the 2003 national championship.





Quote:
Early one morning during the spring of 1994, Dorrance was driving to work past a local park when he spotted a lone figure running sprints in the gloaming. Dorrance slowed down and recognized the runner, so he pulled over his car to get a closer look. Unnoticed, he watched her finish each sprint, her chest heaving, hot breath streaming from her lugns, her body straining so hard it was quivering. A chill ran up Dorrance's spine. "It was right then when I knew that Mia Hamm had crossed over to the extraordinary," he says. "She was on her way to ascending into the stratosphere and becoming the greatest player in the world."

Dorrance drove to his office, sat down at his desk, and proudly wrote Hamm a brief note:

The vision of a champion is someone who is bent over, drenched in sweat, at the point of exhaustion when no one else is watching.



He's a bit of a sap and sometimes he's a bit of a (huge) prick, but I'd really hate for women's soccer in America to have to exist without Anson Dorrance. (Also, it's officially his birthday as of an hour ago it seems, so happy birthday to the man as well.)

Anyone else have reads they'd like to share? It doesn't have to be specific to the women's game, but that's always nice when you can get it. BCBG's link to that blog before was really appreciated, so any more recommended reading would be cool.




_________________
We have Mike DiMauro and you don't.